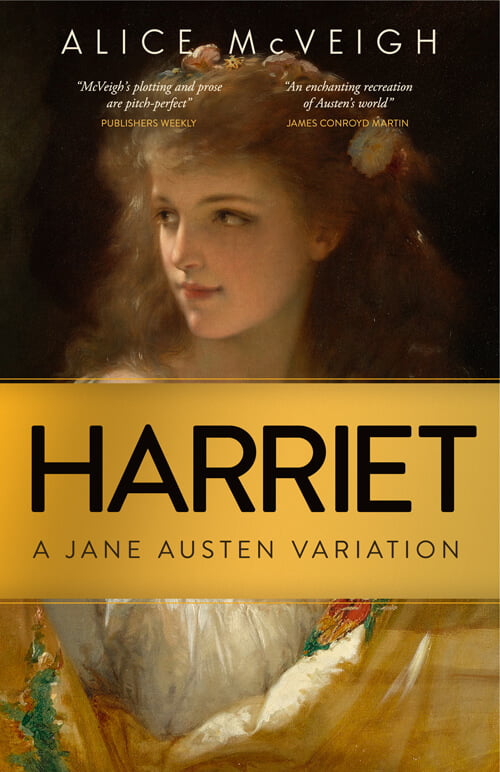 Publication: February 2022
Publisher: Warleigh Hall Press
Editions: Paperback, ebook.
Harriet is an intriguing and original "take" on Jane Austen's immortal Emma, by Publishers Weekly's 2021 BookLife Prize Quarterfinalist, Alice McVeigh.
Emma, a privileged young heiress, decides to mentor Harriet Smith, a pretty boarding-school pupil, and to matchmake her as eligibly as she can… But how is she to guess that Harriet has a secret?
Meanwhile, the brilliant, penniless Jane Fairfax consents to a clandestine engagement with Frank Churchill – though not daring to confess, even to him, that she is being relentlessly pursued by her best friend's husband.
Harriet sidelines Emma herself in favour of the ingenious Harriet and the fascinating Jane Fairfax. It is Emma – but an Emma with a surprisingly believable twist in its tail.
WINNER: Bronze medal (European Fiction) IPPY award (Independent Publishers Book Awards, 2023)
Starred Editor's Pick ("outstanding") on Publishers Weekly
Current Finalist, Foreword Indies Book of the Year
Current Finalist in Chanticleer's CIBA Chatelaine Award
BRONZE MEDAL (European fiction) in the Independent Publisher Book Awards (the IPPYs) 2023
Winner: Gold Medal (historical) Global Book Awards, 2022
Selected: as one of "100 notable Indies of 2022" by Shelf Unbound Magazine
Finalist: International Book Awards (historical fiction)
Honoree: IndieBRAG medallion, 2022
Finalist: American Fiction Awards, 2022 (historical fiction)
#1 Bestseller in several categories on Amazon.com
Silver Award, Literary Titan
Indie Reader-Approved
"A dynamic take on a revered classic. Readers will rarely find the words 'page-turner' and 'Jane Austen' in the same sentence, but McVeigh's impeccably written Harriet certainly fits the bill."
"A highly engrossing novel that captures the spirit of Austen and celebrates all the best qualities of her work from new and innovative angles. McVeigh hits the mark spot-on."
"A highly engrossing novel that captures the spirit of Austen and celebrates all the best qualities of her work from new and innovative angles… The characters are vibrant and full of life - McVeigh hits the mark spot-on."
"McVeigh's prose and plotting are pitch-perfect, and many readers will forget they're reading a contemporary novelist."
"While this title will be catnip to dedicated Austen fans, even new initiates will be captivated."
"McVeigh displays a brilliant, spot-on command of Austen's diction and tone."
"Readers who enjoy a well-told tale in the classic Austen style will be enchanted…There is no bodice-ripping; instead, the slow burn of suppressed passion and desperate romance."