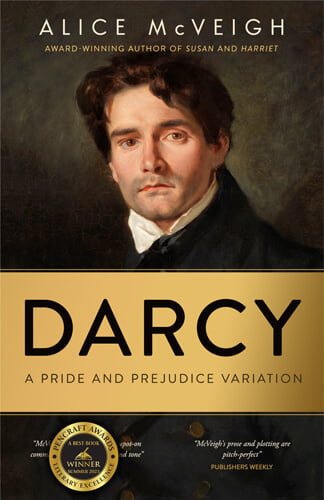 Publication: 30 June 2023
Publisher: Warleigh Hall Press
Editions: Paperback, ebook.
A prizewinning, fresh Pride and Prejudice Variation
Winner: Pencraft Best Summer Reads (2023)
"McVeigh has a remarkable sense of the literary world Austen established, and she is able to recreate it with masterly skill. Specifically, she reproduces Austen's prose style with great fidelity, in all of its charming sophistication and clever wit."
– Kirkus Reviews
"Austen enthusiasts will enjoy a style faithful to the original, while those looking for a new twist will appreciate the post-modern perspectives showcasing character motivation from a fresh standpoint."
– IndieReader
"Should she reject me again, I shall have to wed – as I swore I never would – for dynasty alone. I can only ever love Elizabeth Bennet."
Love is put to the test in this fresh spin on Jane Austen's starriest novel, entwining original and classic characters in a tale of passion and self-discovery.
Alice McVeigh puts the spotlight on Darcy in this witty and imaginative re-telling of Austen's classic tale. In a timeless story of love amid the clash of social classes, Darcy is faced with a terrible choice: to stay in London to force Wickham's hand – or to go to Rome, to salvage his family's reputation.
With a new Darcyesque slant, omitted scenes from the original, and an extra helping of humour – as well as excerpts from The Wisdom and Wit of Miss Mary Bennet – this is a fresh new Pride and Prejudice with (wedding) bells on!
"Seriously, it can't be overstated how wonderful this is. It's the classic Pride and Prejudice - but more. And I loved it."
"This was a really good surprise : the language is right for the era, the characters' psychology is respected, the retelling is faithful with different angles and an Italian twist (I won't spoil!) to make a difference. We also see more of Mary's own feelings, a bit righteous at the beginning but she evolves nicely - she struggles with her feelings and her view on life which brings many humorous moments…. An absolute treat!"
"Imagine, if you will, if Mr.Darcy had kept a diary recording the events of his life during the time he met and fell in love with Elizabeth Bennett. Such is the case in this witty, humorous retelling of Jane Austen's beloved classic. In addition to Darcy's diary, the author also includes excerpts from Miss Mary Bennett's attempt at a literary book of wisdom. Who knew that Mary Bennett had a secret romance? Pour a cup of tea, grab a biscuit, and enjoy this fresh look at a story for the ages."
"The author masterfully captures not only Darcy's combination of decency, aristocratic stuffiness, and rhetorical bluntness, but also the lightsome elegance of Austen… By including excerpts from Darcy's diaries, the author aims to sensitively plumb his innermost thoughts, an aim she admirably achieves.

McVeigh has a remarkable sense of the literary world Austen established, and recreates parts of it with masterly skill. Specifically, she reproduces Austen's prose style with great fidelity, in all of its charming sophistication and clever wit."
"Through Darcy and Eliza's burgeoning relationship and the machinations of the supporting characters, McVeigh captures the sensibilities of early nineteenth-century romantic etiquette.

In McVeigh's hands, Mary becomes a subject as opposed to an object. This so-called plainest sister takes on a starring role that sees her equal to the prettier Jane and the wittier Eliza. Yet it is still Darcy who claims this novel as his own.

Jane Austen enthusiasts will enjoy DARCY, which has a style faithful to the original, while those looking for a new twist will appreciate the post-modern perspectives that showcase character motivation from a fresh standpoint."